Okay I really have to work on my photography skills! Underexposed, and out of focus! Sorry about that!
Little did I know that SU stamps had the name of the set on the sticker sheet. Eeeee gad I threw them away after mounting the stamp and putting the sticker on...... Oh well such is life. So here is my idea on storing mounted SU stamps.
I wanted to stack them up in my square cubes but how would I know the set just by the name? I wouldn't! So I set the stamps wood side down on my scanner, scanned them, and printed them out at about 3/4 inch X 5 to 7 inches on a full sheet label. (needed the width) If there were only a few stamps in the set I started to fill in the blank space with tan paint in PSE. I wasn't striving for perfection in this, I just wanted to get an idea of what stamps were in the containers:)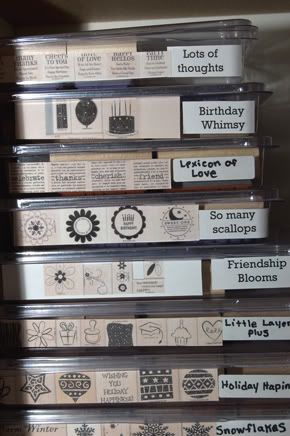 Peace out!